How to import in tradingview a full up-to-date list of future or spot crypto currencies of binance, ftx or any other exchange ?
Have you ever wondered how to import on tradingview the full lists of crypto pairs available on an exchange? You are probably tired of adding them manually. Maybe have you missed good trading opportunities because you hadn't the last trending coins in your Binance or any other exchange watchlist ? Here is the direct solution provided by tradingdong.com and featured in tradingview.com.
Any error (red pair in list) you may have are coins that are listed on the exchange but aren't on tradingview. As for now, it is impossible to know.
I recommend to always use on tradingview the chart from the exchange you trade on. Indeed, the chart of ETH/USD may not have the same price levels and top/bottom prices. Of course the global shape stay the same but some weird candle may appears on your exchange that you wouldn't have seen if you were using the chart from the same pair but on other exchange. You may then miss a good trading opportunities, a stop loss level or a limit entry level. Especially if you have connected somehow your Binance account with Tradingview.
Download full Binance updated spot/future list for tradingview
Binance is a great platform for trading. Several crypto currencies pairs are available. The trading interface is quite easy to use although there are a lot of different menu and options that can be complex for a beginner. That was the first exchange i used extensively and i globally recommend it even if it is not my number one nowadays. Using it with Tradingview is great.
What is attractive with Binance is the whole ecosystem that is available from staking to credit card. It is overall a global solution that is very attractive. What I don't like about Binance is the platform becomes unavailable especially when a big move is occurring. That is when you are relieved to have added those stoplosses to your positions and appreciate that Binance offers it.
Whenever you want to use a screener or make graphical analysis to your prefered crypto coins, you want to have the full and updated list of crypto currencies available on Binance. At the time of writing this, there are around 1 500 pairs listed on Binance spot and around 90 pairs listed on Binance futures. Be advised that the limit is 1000 assets on a tradingview list. Which means that the Binance spot list for tradingview is separated into two files inside the downloadable archive. On your tradingview list panel, you will end up with 2 Binance spot lists.
Download full Ftx updated crypto list for tradingview
Ftx is a great exchange. As far as i am concerned, there is 2 main reason for it. First, their interface and any action on Ftx is lightning fast. I really enjoy it. No more endlessly loading page or slow performed action. Second, you can create several sub account for free. This is very useful to manage all your connected app and service with one account. On Binance you can do it if you are a professional registered on Binance or if you are Level 1 VIP at least which i don't know about you but i am not. So that's 2 valid reason why you would want to download the full list of FTX assets and import it to tradingview watchlists panel.
Download full Coinbase updated crypto list for tradingview
Coinbase was one of the first to allow crypto coin buying with credit card. That i why it may be you preferred exchange amongst other valid cons that coinbase has to offer. Here are the full ist of updated crypto assets available to import on tradingview :
Download full Kraken updated crypto list for tradingview
Kraken is a great exchange too because it seems to be legally reliable, located in the US and having bank accounts registered in reliable countries in Europe (Germany) also. Somehow the interface is quite laggy but overall it's ok. Here is the full list of crypto assets available on kraken and ready to import on tradingview.
How to import a crypto currencies pairs list in tradingview?
1. Download the requested list from our files
You can find the downloadable archive on this page or in the shop. Just remember where you put the files.
2. Extract the *.txt list file(s) from the archive
Be aware that if the list is more than 1000 assests long, you will have to create more than one list in tradingview because a list is 1000 assets max. Just import the list as we provide it, it's ready for import.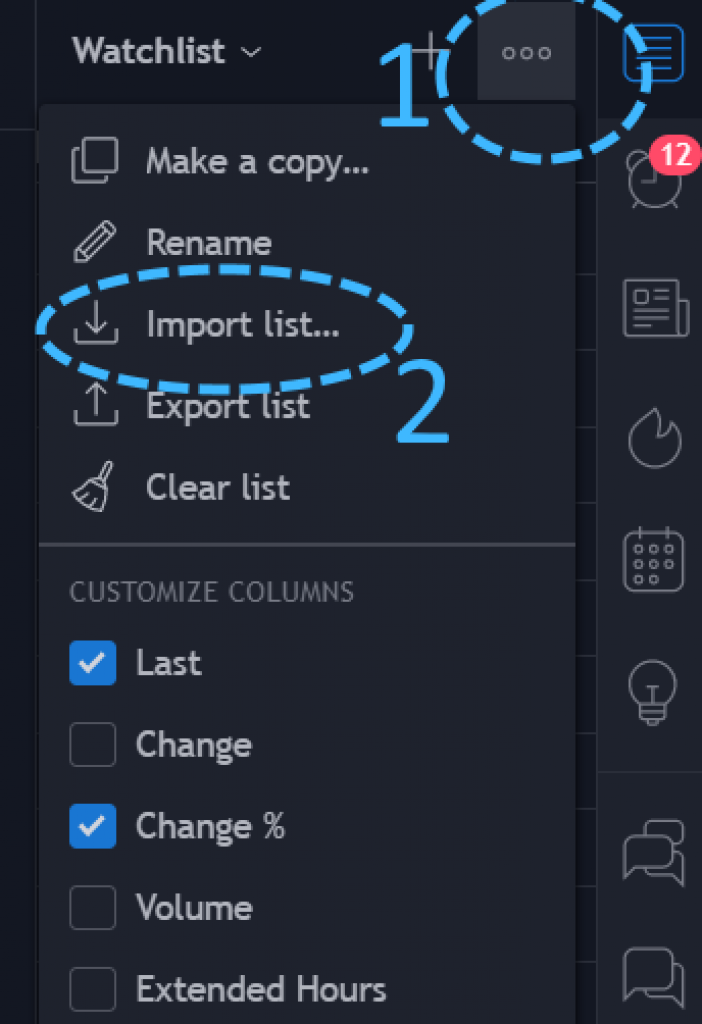 3. Import the list
Go to tradingview > list > … and click on "import". choose the file you want and import it. Do the operation for each list you have.
4. Update the list
Remember that you can connect to your tradingdong account and download an updated version of the list from your order list any time you need.